Novice hikers often fall into one of two camps: those who do too much and those who do too little. Take plenty of time in advance of your first hike to pick the perfect trail, select the right clothing and gear, and make your first experience in the great outdoors one to remember.
Get Good Hiking Shoes
Never underestimate the power of a good pair of hiking shoes. Since you're just getting started there's no need to splurge on a heavy duty pair of boots, but that pair of running shoes you've had for ages may not fit the bill either. Hiking shoes are a good compromise between sneakers and boots.
A comfortable fit will be at the top of your list. Plush cushioning at the tongue and collar and good quality material in the midsole and footbed will both add to your comfort. If you have especially weak feet, look for something with a removable footbed, so you can replace it with your own custom orthotics.
If you plan on wearing thick socks, purchase a half size larger than you normally wear, and whatever size you get, spend a little time breaking in your shoes before heading out on the trail. Despite the importance of comfort, it isn't the only trait you should look for in a good pair of hiking shoes.
For instance, supportive shoes will feel comfortable, but not every comfortable shoe provides ample support. Prevent damage to your feet, ankles, and calves by choosing a hiking shoe with plenty of shock absorption and stability.
Check out the shoe's seams and overall construction to ensure it's durable. Traction is also a critical safety feature. If you plan to hike on rugged, rocky, or wet terrain, you should pay close attention to the shoe's sole and lug pattern. Finally, you'll also want to take a careful look at what materials comprise the shoe's upper.
A mesh-heavy upper will be more breathable, perfect for the summertime hiker or trail runner, while something with Gore-Tex will be strongly weatherproofed, ideal for those who hike in rainy or muddy conditions on a regular basis. Most hikers will want a moderate amount of weatherproofing with a mix of leather and mesh in the upper.
Women may have different fitting needs due to the higher degree of foot expansion ladies experience. If you're used to shoes pinching your toes, get a half size larger than you normally wear or look for a shoe with a wider toe box. For more on selecting hiking shoes, check out our handy guides for men and women.
Wear Comfortable Clothes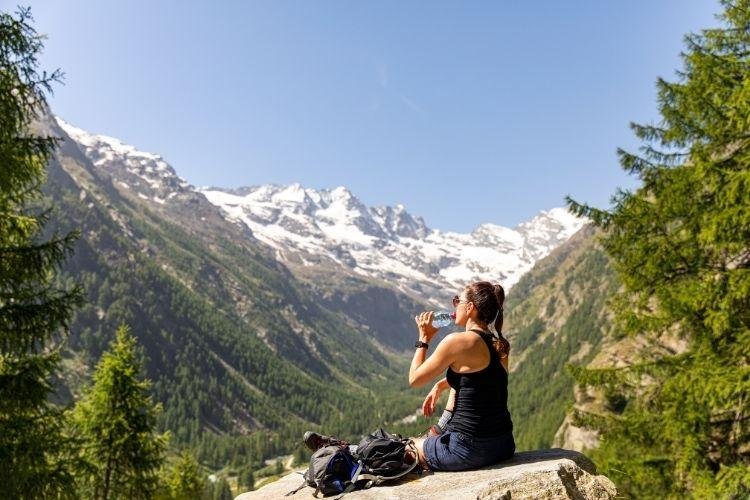 Wearing comfortable clothing may seem like a no brainer, but you'll be surprised to see women in full makeup and jewelry or families in ill-fitting clothes and flip flops attempting day hikes. You probably don't need to purchase specialty hiking clothes for your first adventure in the great outdoors. Items like convertible pants are better suited for longer backpacking trips.
A simple t-shirt and shorts will probably serve your needs well enough, but think twice before choosing cotton. Cotton is moisture retaining, not moisture wicking, making a less than ideal choice for heavy physical activity like hiking. Synthetic materials and wool are much better options as they are moisture wicking. Remember that denim is also cotton and will retain moisture, making jeans a poor choice for hikes.
Depending on how much you sweat, you may want to bring an extra shirt to change into during the day. Always check the weather forecast before you get ready for the day and be sure to dress appropriately. If you're hiking in cold weather, you'll also need long thermal underwear and an extra warm layer like a fleece jacket. Is there rain in the forecast? Have a rain jacket with you and make sure your shoes are sufficiently weatherproofed.
The quality of your socks is just as important as the quality of your shoes. Invest in a hiking specific pair of socks, like the SmartWool brand, which can offer greater breathability, cushioning, and protection from blisters than regular cotton socks.
Pick the Right Hike
Use online resources, consult friends or locals and hospitality staff if you're on vacation, and check out park brochures to find the perfect trail for you. Most resources will designate trails as easy, moderate, or challenging and as a first-time hiker, you naturally want to stick to the former.
Two to three hours is a good duration for your first hike, but you should also check the mileage and elevation you'll be tackling and make sure those are numbers you feel comfortable with. A trail with switchbacks will be easier to conquer than one with a constant rise.
You'll also likely have a choice between trails that make one continuous loop, and trails where you'll reach the top and then turn around to retrace your steps. The latter may be more appealing to the novice hiker, as you'll have landmarks you can recognize on the second half of your hike.
Get an Early Start
Even if you're not a morning person, it's best to drag yourself out of bed and get an early start on day hikes, particularly those that will last more than a couple hours. If you leave later in the day, you'll have higher temperatures and more fellow hikers to contend with. The less familiar the terrain and the more people in your group, the slower you'll travel, so starting too late in the day could also drag your hike on after dark.
Carry the Right Amount of Gear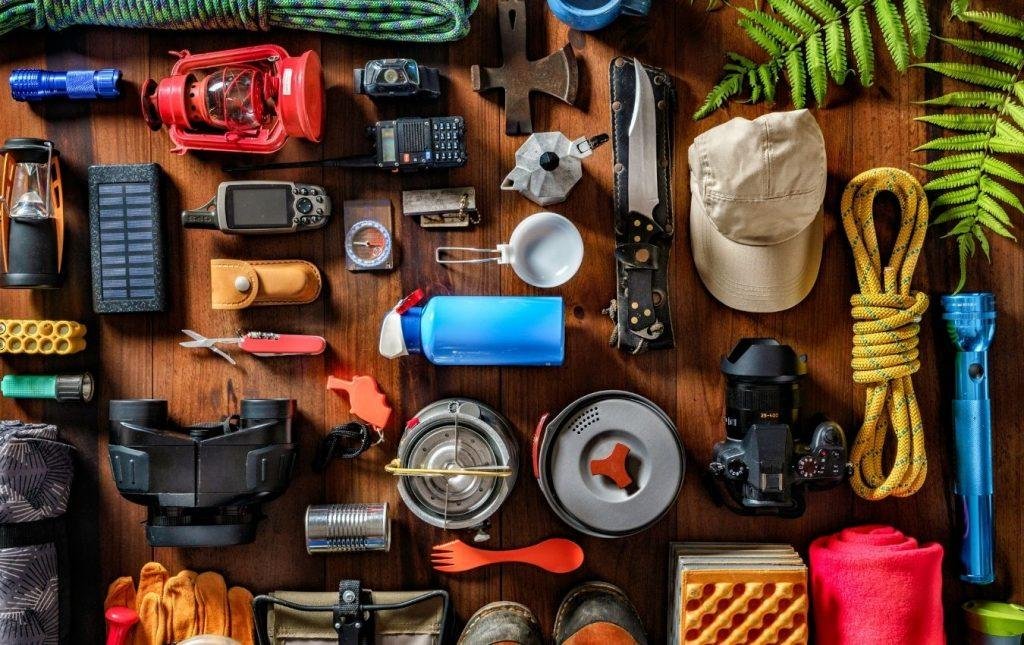 First-time hikers are a lot like first-time travelers. They're both prone to over-packing. When you don't know exactly what you're headed into, it's easy to succumb to "just in case" thinking and as a result load up on unnecessary gear. If you're not spending days in the wilderness, you probably don't need a compass.
Be honest with yourself – do you even know how to use a fancy specialty GPS system or a satellite phone? Just as you would with travel, when preparing for your first hike, lay out everything you want to take with you and cut that amount in half.
Remember that everything you bring along for the day, you'll be carrying up a mountain on your back. For a simple day hike, you don't need to pack much more than a camera or smartphone, water bottle, extra t-shirt, extra pair of socks, and perhaps a light snack.
A few other things worthy of everyone's packing list include sunscreen, lip balm, insect repellent, and an emergency whistle. If you're camping, you'll also have a tent; sleeping bag; lantern, flashlight, and/or headlamp; multi-tool; changes of clothes; campstove, cookware, food, fuel, and eating utensils; quick-dry towel; toilet paper; biodegradable soap; map and compass; and perhaps something for entertainment like a good book or a deck of cards.
REI has a more comprehensive list online, but keep in mind that you should adjust that list to your personal needs and you don't need to bring everything they suggest.
First aid kits are also an area where new hikers have trouble finding the right balance. A 100-piece first aid kit is overkill. Day hikers won't need more than a few aspirin, adhesive bandages, and moleskin for blisters. For longer hikes, you can add medical tape, gauze, antihistamines, antibiotic ointment, and antiseptic wipes. Don't pack anything you don't know how to use.
If you need to buy gear, don't skimp on the most important pieces: your shoes, tent, and sleeping bag. These should all be purchased at a good quality outdoors store, like REI.
Stay Hydrated
If you're even remotely considering heading out the door without a water bottle, think again. Staying hydrated is key to any exercise and hiking is no exception.
An electrolyte-laden sports drink like Gatorade is okay, but there's no beating plain ol' water. If you're going the store bought route, pick the largest bottle you can find. A simple 12 ounces probably won't be enough.
An amply sized reusable bottle, like the ever popular Nalgene, is even better to have. Take regular breaks while hiking to have a few sips of water and don't wait until you're parched. If you feel thirsty, you're already dehydrated.
Pace Yourself
Speaking of breaks, don't be afraid to take them whether or not rehydrating is on the menu. If you're on a popular trail, you may see seasoned backpackers charging ahead, but that's no excuse to overexert yourself.
As a beginning hiker, you may find you need to take breaks more frequently than others and that's a-ok. If you find a trail too challenging for you, it's even acceptable for you to turn around and head back to the bottom of the hill.
Like all other forms of physical fitness, in hiking it's most important to listen to your body and strike the right balance between challenging yourself and sticking to your comfort zone.
On a similar note, you shouldn't tackle two weeks tramping through backcountry wilderness before testing the waters with a few day hikes first. Nor should you attempt an ultra-light approach – the recent trend of carrying only ten pounds of gear – on your first multi-day hike. Like most things, hiking is a skill that should be developed gradually.
Stick to the Marked Trail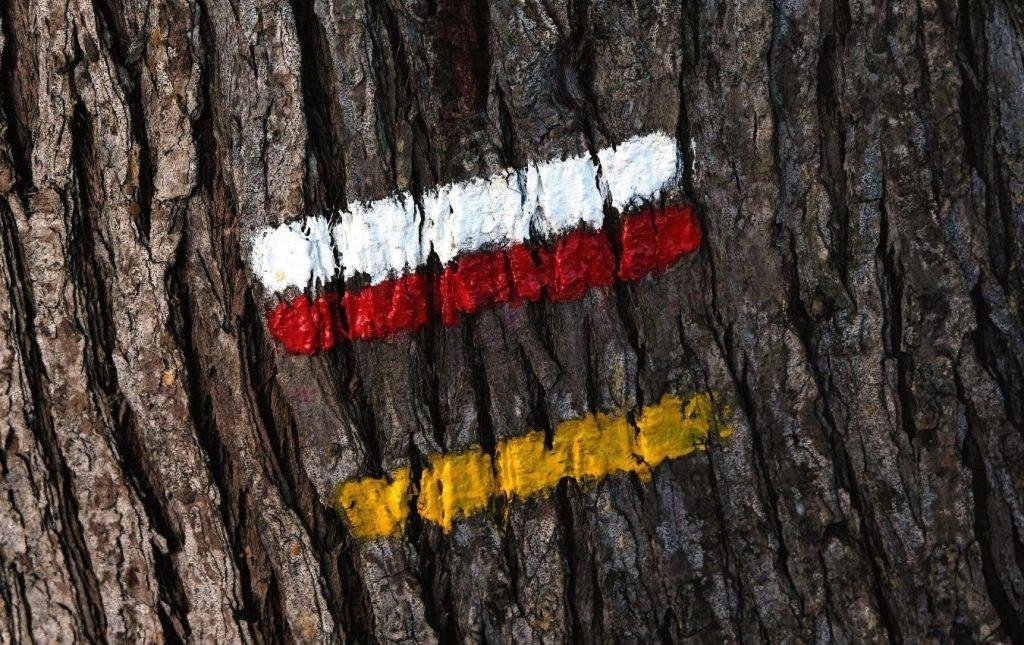 Some areas, particularly those with waterfalls comprising part of the landscape, may tempt you to venture off the beaten path, particularly if you have a photographer's eye. Heading off the trail, however, can pose a significant danger.
To ensure your personal safety, heed all posted warnings and don't ever venture off the marked trail, especially if doing so entails ignoring or stepping over a guard rail. Ignoring warnings and safety rails is often what causes fatalities on hiking trails.
As an example, Crabtree Falls in Virginia has claimed more than one life in the past year, and most casualties result from hikers ignoring posted warnings, stepping over barriers for that perfect postcard-worthy view, and slipping on the off-trail rocks.
Leave No Trace
The premise behind Leave No Trace is quite simple – any parks, trails, and campsites you visit should look the same when you leave as they did when you arrived. Some of the program's tenets are more relevant to campers than they are to day hikers, but all Seven Principles are worth your consideration.
First, plan ahead and prepare. Take full advantage of the information age and look up any regulations or special concerns for the area you're visiting in advance. Checking the forecast will ensure you can prepare for extreme weather and emergencies. If you know how to use a map and compass properly, do so. Sticking to the marked trail, as noted above, or other durable surfaces will help preserve the surrounding natural area.
Do not leave behind any waste or litter. If you're not keen on having trash loose in your bag, bring along a plastic grocery bag to hold your trash until you're back in civilization.
Don't remove any artifacts, rocks, or plants from the trail. If you're camping, keep any fires you build small and within established fire rings. Burn wood and coals to ash and make sure your fire is completely extinguished before scattering the cool ashes and moving on. Finally be respectful of both wildlife and other hikers.
Keep your volume down, don't follow or feed any animals, and if you can't keep your pet under control, leave Fido at home.