Coyote hunting is now a very popular hobby among hunting and shooting enthusiasts. No matter how good or bad you are at hunting, you can never deny the importance of a night vision scope. So, we are about to show you the best night vision scope for coyote hunting.
Coyotes are very smart animals that can easily escape your target spot. Having a good night vision scope with long-range aiming facilities can help you a lot here. You should have a scope that allows you to clearly see through the darkest places and easily align your aim. So, have enlisted the best night vision scope for the money with all the beneficial features you would need.
Quick Look At Our Top 8 Best Night Vision Scope For Hunting:
Top 8 Best Night Vision Scope- Detailed Review
Here are the best coyote hunting scopes that you can choose:
1. ATN X-Sight-4k Pro
Our first choice of the list is ATN X-sight 4k pro scope which provides great night visibility. This scope offers some amusing facilities with its smart technologies. There is no chance of losing your visibility or missing the aim if you are using ATN's scope. It comes with an ATN laser range finder, a quick detach mount and a powerful 20000mAh battery.
These scopes of ultra HD sensors and 4 dual-core processors would provide the clearest 4k visibility. As it has higher resolution and faster optics, you can define from millions of vivid colors to locate your target easily. What amuses me more is that ATN night vision scope can operate within -28°C to 48°C temperature which makes it ideal for any condition.
ATN X-sight scopes ballistic calculator is one of the most convenient features you would get. This system optimizes humidity, temperature, wind, angle to the target, and weapon profile to find the best aiming spot. You can easily hunt with accurate long shots with this feature.
More: Thinking About Doing Some Coyote Hunting? We Have Tips!
As it operates in an ultra-low-power profile, you will get a long-lasting battery life of up to 18 hours. You can do dual-stream video recording with ATN 4k pro night vision scope which makes it even more convenient. It comes with an sd card slot so that you can record them on your sd card if you don't want to do wi-fi streaming with your device.
Pros:
Ultra HD sensors with higher resolution, dual-core optics, and faster optics
Comes with a built-in ballistic calculator for better precision
Wi-fi, dual-stream video recording & sd card slot available
Enhanced night vision mode
Resistant to any temperature & ambiance
Cons:
ATN X-sight scope is not so durable
2. ACPOTEL Night Vision Monocular
ACPOTEL night vision monocular is another incredible night vision scope for coyote hunting. This scope has an amusing color transmission and long-distance view angle which is beneficial for hunting. This light-weighted scope also has vast storage and battery life. All these facilities of this scope make it perfect for outdoor activities and heavy use.
This IR night vision scope is built with all necessary low-light sensors and optical glasses for night vision. This means you would get better light transmission and ser through the dark wilderness. So, you can capture clear HD photos of 1280×1024 megapixels and 720p videos with ACPOTEL scope.
Observing a vehicle's number plate from a 200m distance is possible even in the darkest ambiances with ACPOTEL. This scope provides 5x optical magnification and 8x digital magnification with its 850NM infrared illuminator. This means that you can observe your prey's movement from up to 1000m distance. Besides, you can also view photos, videos, and real-time shooting on pc very easily.
You would get a long battery life with ACPOTEL scopes 16340 rechargeable lithium battery. You can charge it fast with a 5.0v/1000 mAh adapter or connecting to your pc via USB. Extra 8 GB memory would let you capture 3 hours of 720p video or click upto 10,000 high-resolution photos. There is an auto shut-off system that turns off the scope when not in use.
Pros:
Compact, lightweight & multifunctional scope design
Up to 1000 meters clear visibility with 8x magnification
Convenient night vision with the light transmission system
Click HD videos and photos with 8 GB of memory
Long-lasting & rechargeable lithium battery
Cons:
Zoomed in pictures look grainy
3. Sightmark Wraith HD Digital Riflescope
Sightmark wraith digital riflescope is a very good scope for coyote hunting. Premium features like IR flashlight, weaver rail, reticle options, and easy control buttons make Sightmark wraith an ideal scope for night hunting. You can use this scope with different night vision colors to accurately aim your target and capture the moment with high-resolution sensors.
You would get a clear and full coloring view with Sightmark wraith scope just like real vision. You can select between black, white, and green color views for night vision according to your convenience. This scope has 10 reticle options and 9 colors for aiming. This means that you can easily change colors to get more precise aim and accuracy.
High definition sensors of Sightmark wraith scope offer astonishing picture quality of 1920×1080 resolution. You can also record 1080p HD videos for up to 4.5 hours with 4AA batteries. Menu buttons and control are really easy to understand and safe to use with its removable eye-cup.
If you want to hunt from a long distance then this scope can be your ideal choice. 8x digital zoom and 4x optical system of this scope can zoom for up to 32x magnification. This means that you will easily get visibility of at least 1km. 5 weapon profiles are also available to save zeroes for different calibration settings of weapons.
Pros:
Clear colored day mode & multicolor optioned night mode
8x digital zoom for long-range hunting
HD photo and video recording for up to 4.5 hours
10 reticle options and 5 calibration profile settings
Portable & lightweight
Cons:
This scopes range is not adjustable
4. Pulsar Digisight Ultra N455
Pulsar digisight is a very famous scope among all shooters and hunters. Pulsar ultra n455 night vision riflescope has one of the most convenient built quality among night vision scopes. Extremely lightweight and durable body. It has a long detection range with a premium quality display. You would get all the smart features with this night vision scope at a very reasonable price.
You can use this scope as both 2x and 4x which means, you can comfortably use it for both short and long-distance. What amuses me the most is its nighttime detection range which is 550 yards! There is a removable IR illuminator with more than 10 reticle options which makes it very easy to aim and observe your hunt even in the darkest ambiances.
The built-in recording system of the Pulsar night vision riflescope can record with sound without any additional tools. You won't need any cables or DVRs and you can zoom pictures precisely with its wide field-of-view. You can connect this scope with your phone via the stream vision app. 16 GB internal memory of Pulsar scope is more than enough to record hours-long videos.
More: How to Hunt Fox: Everything You Need to Know
The Rechargeable B-pack battery system of Pulsar scopes provides up to 8 hours long battery life. So, you can go for a long time coyote hunting with this scope. High caliber recoil resistance also reduces recoil upto .375 H&H. USB cable, charging kit, and wireless remote control is all included in the package.
Pros:
Supports stream vision app for streaming pictures & videos without any cable connection
Detachable high power long-range illuminator
Accurate zoom zeroing magnification with the stable aim
Picture-in-picture mode to see both aim area and wide-field view
Reduced recoil
Cons:
Poor picture and video quality
5. Sniper Day/Night Vision Rifle Scope
If you prefer coyote hunting from a long-distance here is the ideal scope for you. Day/night vision riflescope has a very long night vision range which makes it more convenient. This aluminum-built scope has both day vision and night vision features for up to 1000m in daylight.
Day mode of this scope provides full-color viewing of all objects. You can easily observe your hunts movement within 1000 meters and balance your aim comfortably. 3x digital zoom and 4.5x optical zoom lenses of this scope are perfect for coyote hunting. These lenses would perfectly balance your aim and tracing in the short, mid, and long-range.
Multi-coated infrared LED illuminators enable the clear vision of up to 300 meters in darkness. No other night vision scope would provide a clearer view than this scope at this price range. Picture and video capturing the quality of day/night vision scope are admirable. You can record HD videos at 1080p with its day/night vision camera.
These pictures and videos would be stored on the scopes 8 GB TF card. Two rechargeable 14500 & 18650 lithium batteries of this scope can run it for a long time. So, you can go for a long time without any concern about battery life. The included power adapter is powerful enough to recharge the batteries within 2 hours. IR flashlight, video cable, USB cable, cleaning cloths, etc are also included with the scope.
Pros:
3x digital zoom with 4.5x optical zoom magnification
HD pictures quality and 1080p video recording facility
IR flashlight, charger & adapter included
Multi-coated glass objectives for long-range night vision
Cons:
6. Night Owl Optics NightShot Digital Rifle Scope
Night owl optics riflescope is one of the best coyote scopes at e great value for money. This scope has been highly popular among shooting and hunting enthusiasts for its amusing facilities and reliability. You can use night owl scope for almost all types of hunting weapons since it is compatible with most of them. You can use this scope for any 30 caliber magnum/non-magnum bullets weapon.
The 3x optical zoom magnification lens of the night owl scope is perfect for coyote hunting. 52 mm focal length and 5.6° field of view of this scope would make your aiming and chasing target very easy. Mounting systems to install this scope and IR illuminator are both weaver and Picatinny rail compatible.
You will get a clear nighttime view within the 100-200m range which is enough for hunting coyotes. 3 different reticle options let you choose and configure your preferred reticle. You can choose from black or white reticles and configure them according to your hunting environment. There is a built-in high-power infrared illuminator that allows sharp aiming at any conditions for convenient hunting.
This scope can capture a high-resolution screen of 640×840 allowing a very smooth view. The screen, battery, IR illuminator, etc are all waterproofed which makes it even more reliable. It uses rechargeable lithium batteries which can work for up to 17.5 hours depending on how you use them.
Pros:
High resolution, 640×480 display
Clear night vision view of up to 200 meters at night
Compatible with crossbows, shotguns, and rifles of up to 30 caliber bullets
The waterproof and long-lasting battery life of up to 17.5 hours
Full colored day view and 3 configurable reticle options
Cons:
Poor night visibility while using without IR
7. Firefield NVRS 3×42 Gen 1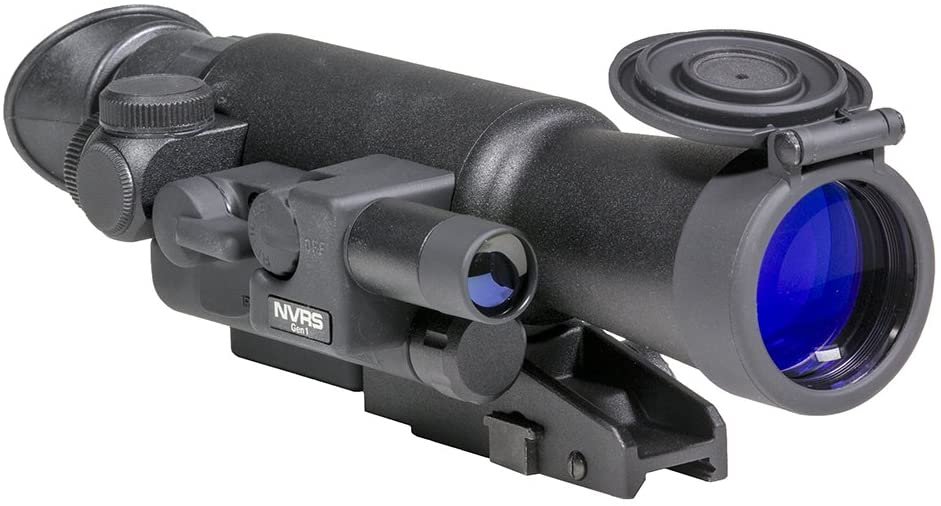 The Firefield NVRS gen 1 riflescope comes with enhanced image quality, easy controls, and a highly powerful built-in IR illuminator. This scope is comfortable to use and easy to switch with iron sight anytime you want. Its premium built quality ensures long-lastingness while you can quickly adapt to its easy controls and adjustments.
42 mm lens of Firefield night vision scope is capable of getting the best image view. 3x optical magnification is perfect for mid-range to long-range hunting. High-quality image and resolution are ensured with this scopes multi-layered optical lenses. You can quickly detach the scope and switch to iron sight for close distance hunting for its quick detach weaver mount.
No matter how bad the weather condition is, you can still use this scope as it has a water resistance IPX4 rating. You go through any heavy situations with this scope's highly durable body. Titanium-built bodies are highly durable and reliable for long-term use. Carrying a fire field won't bother you as it is light weighted and easy to carry.
There is a built-in highly powerful IR illuminator that can even work in the darkest atmospheres. You will get enhanced image details and sharp colors with this IR illuminator. The incremental reticle used in the Firefield scope makes it so easy to adjust your scopes brightness with the red duplex reticle design.
Pros:
High-quality image resolution
Highly durable titanium built scope with IPX4 water resistance
Powerful IR illuminators with increased viewing angle
Quick detach weaver mounting system to easily switch between scope and iron sight
Increased reticle options for more brightness adjustments
Cons:
These scopes mount is too much sensitive & often gets detached
8. Bestsight DIY Digital Night Vision Scope
Bestsight night vision scope would be our last on the list of the best scope for night hunting coyotes. This scope provides enhanced color convenience and sharpness for day and night vision with its night vision camera and night vision IR. You can easily see everything on the screen of this scope and make your adjustments with the easy menu options.
3 million pixels night vision camera of best sight ensures HD picture quality and with adjustable focus. You can get a more sharp image view after adjusting focus from a proper distance. Switching the night vision camera today mode would provide a fully colorful view of real-time images to make your hunting even more enjoyable. This scope's field of view is much more convenient than other scopes for its easy adjustments.
Night vision screen of best sight night vision scope supports HD imaging. This 5 inches big screen with menu, back, '+' & '-' buttons make all adjustments easy. You can adjust its screen brightness for eye comfort and better view. USB connection system is also available for the best sight night vision scopes screen.
There is a 5w extended sliding infrared flashlight pre-installed near the display. You can rotate the camera in any direction as it is a 360° adjustable camera. The only problem with this scope is its night vision range which is only 20 yards. You would have to buy an additional IR illuminator to use this scope for more than 100 yards distance. Use at least 5w IR illuminators to get long-distance night vision with the best sight scope.
Pros:
5 inches big screen display with control buttons
360° adjustable camera with 5w extended infrared flashlight
High-quality pictures with focus adjustments
Color view for daytime
Cons:
IR illuminator and battery not included
How To Choose The Best Scope For Night Hunting Coyotes – Buying Guide
Here are the most important factors you should look upon before choosing the best night vision riflescope:
Optical Lens
Optical lenses help to create cleaner visibility of the target. You should look for scopes that have multi-coated lenses which provide high-resolution images and videos. The better the optical lenses are, the better they can operate the low light transmission.
Reticle
The reticle of scope should be accurately aligned and easy to target. Many cheap scopes have inappropriate reticles. You should avoid this type of reticles at any cost since they would affect your weapon's balance and target.
Magnification
Magnification is really necessary for long-range hunting. Your night vision scope should have at least 2x/4x magnification so that you can hunt in long distances. If you hunt in more than 500 meters distance then you should use a scope with 8x magnification.
Zoom Zero Adjustments
Night vision scopes have a turret to reset or adjust scope zoom settings. Select a scope that has an easily adjustable turret for convenient hunting. If you can easily set the turret to zero then you can constantly shoot with more comfort.
Battery Life & Storage
At least 2-4 GB of internal memory should be available in your scope for recording and capturing long videos. Always go for scopes with rechargeable batteries which can work for at least 3-4 hours as it is very rare to see someone go hunting for less than 3 hours.
Frequently Asked Questions
Q1: Can Coyotes Detect IR Illuminators?
Ans: Coyotes can't see IR illuminators. IR illuminator lights are very dim and small which is very hard to detect. The red spectrum of IR lights is also minimal sized which can't be spotted so easily.
Q2: How Far Can I See With A Night Vision Scope?
Ans: You can see upto 30 yards with a night vision scope without any magnification. If the night vision scope has infrared camera lenses then you can see up to 1000 yards.
Q3: How Far Can I Shoot With 10X Scope?
Ans: 10x scope lets you shoot within the range of 250-1000 yards. Since this scope is used for long-distance, you can not use it in short distances for its small range of view.
Q4: What Is The Best Scope Magnification For Coyote Hunting?
Ans: The best scope magnification for coyote hunting would be 1-4x. You can use up to 4x for shooting coyotes within 500-600 yards distance. This is the perfect range for coyote hunting so you should use 3x/4x magnification for clear shots.
Q5: Is Bigger Objective Lens Better?
Ans: Bigger objective lenses provide a larger objective diameter and better light transmission. Hence, bigger objective lenses are better as they capture brighter and high-resolution images.
Conclusion
Now that we have shown you the best night vision scope for coyote hunting, you can easily select the ideal scope for you. Choosing the best night vision scope for predator hunting would let you experience the most of it.
ATN X-Sight-4k Pro Edition Smart Hunting Rifle Scope is undoubtedly the best choice for any hunter. You can also go for the Pulsar Digisight Ultra N455 Digital Night Vision Riflescope if you prefer the ease of use and recoil reduction. You should use your experience with these scope types and prefer the one you are comfortable with.
We have shown scopes for hunting in a short-range which is Night Owl Optics NightShot Digital Rifle Scope and ACPOTEL Night Vision Monocular for a long distance so you can hunt from any distance. Good luck with your hunting journey.